Software Development and Consulting
Whenever you need some software project done, we are there to help you. Be it in requirements gathering, design, development, implementation or deployment: that's our world.
That's what we've done in the last years and what we are really good at. See our about page who we are and what we can do for you.
Then feel free to contact us for a quote to get your great software idea to your customers.
---
PhoneMondo – Your telephony, optimized
PhoneMondo can show you on the first ring who calls you. It's is a cloud-based CTI system that connects your phone system and Android phones with other systems like Salesforce, Zoho, HubSpot, Pipedrive and more. If your data doesn't contain any information for the caller, it will look up public phone books and other data sources for information. So you can decide to pick up the call based on data shown.
PhoneMondo also shows you reports about the telephony usage in your company. Data can be broke down to departments or even single phone line. Reports can be sent auomatically to you i.e. for the previous week or previous month.
With these reports and statistics, you can see on first sight where you could improve the coverage of your phone accountants. If customers need to wait too long at a specific time of the week and then the pickup rate drops to a critical value, wouldn't you be interested in this data? No problem for PhoneMondo.
PhoneMondo connect to any phone system that comes with Tapi 2.1 drivers from the manufacturer (i.e. from Aastra, Auerswald and Agfeo), any STARFACE voip system, Asterisk and Android mobile phones.
And the best is: PhoneMondo is free (incl. 1 user and 3 monitored phone lines). If you need more users and monitored phone lines, PhoneMondo starts at 14,90€ per month (+VAT of your country, if applicable).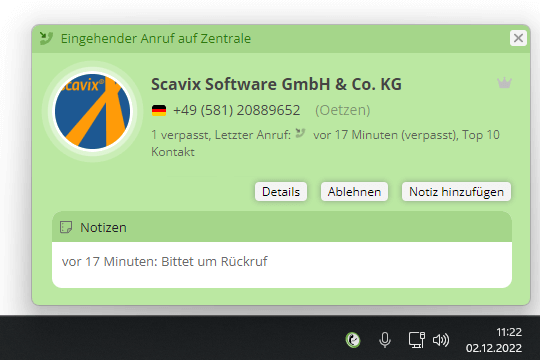 Get more information on www.phonemondo.com
---
Need a quote for your software project? Contact us now!